Auto Shipping TLC is Your Auto Transport Company Of Choice
Auto Shipping TLC is your auto transport company of choice. Shipping your car has never been easier. We provide years of experience and industry knowledge that combine to ensure the most smooth and carefree vehicle delivery process possible for every customer.
Transporting a vehicle is not an overly complicated process, though it may seem that way from the outside, especially if you've never done it before. Shipping a car, truck, motorcycle, or any other type of vehicle is just a matter of collecting the necessary info and contacting the right people; in this case Auto Shipping TLC is your broker of choice. We offer simple solutions to all your transport needs, so you can focus on the rest of your business. Free car shipping quotes and now you can get a car shipping quote that is easy and hassle free.
Auto Shipping TLC can offer transport of your vehicle to and from anywhere in the United States. We have many "first call haulers". This means that we have used the companies to ship autos many times over the years and if they have space, they will accommodate us and work with us on the cost as best as possible. Otherwise, your car is posted to a board that all haulers look to pick up cars on their routes. Once we get a call from a driver, we check their ratings (we only use those with a 98% satisfaction rating or above) and get a certificate of insurance so that we remain aware of any changes in their insurance.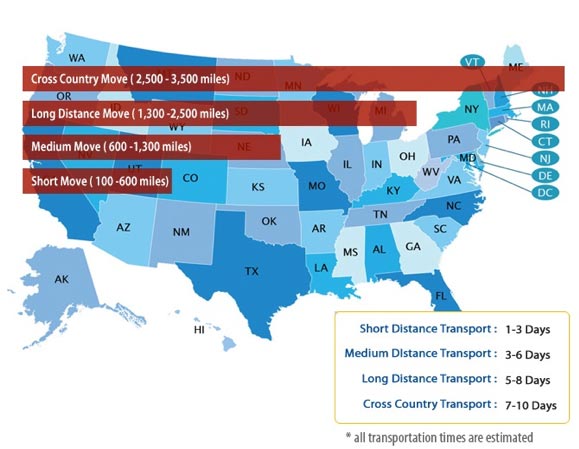 Some automobiles need an extra level of care and protection. If you need transport for a show car or luxury vehicle, we can provide an enclosed carrier for shipment. This not only protects from damage due to weather and road debris, it also safeguards your treasure. You may ask how long it takes to transport my car. The map above shows approximate times.
Please keep in mind that it may take longer due to traffic or weather. The drivers are under strict rules as to how long they can drive each day. This is dictated by the Department of Transportation.
Take the time to read our reviews and view our BBB Profile and then give us a call at (561) 369-2255. We are here to help.
Currently, the government is in a state of turmoil. This does not affect the automobile transportation industry. Auto Shipping TLC asks that if you are not register to vote so that your voice can be heard.