Auto Transportation Broker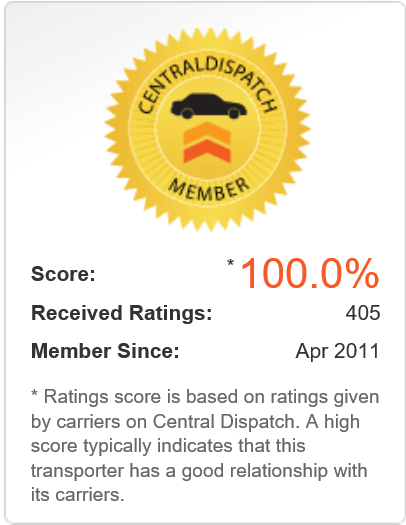 Auto Shipping TLC is an auto transportation broker based in Florida. We are a fully licensed, insured, and bonded company under the US Department of Transport under the USDOT No 2248430. Our Federal Motor Carrier Safety Administration MC No is 740342. We are capable to ship and transport cars anywhere across the continental United States. However, we do not ship to Alaska, Guam, Hawaii or Puerto Rico.
Auto Shipping TLC was established in 2010. We deal with all sorts of motor vehicles including sedans, pick-ups, SUVs, and motorcycles. We offer both open carrier transport services and enclosed transport services for their more delicate cargo.
Auto Shipping TLC does not ask for an upfront deposit, instead we only charge your credit card once your vehicle has been assigned to a carrier and both cost and terms have been agreed upon.
Family-Run Company
Auto Shipping TLC is a family-run company with their principal being their president Mr. Jerry Cohen. The vice president is Mrs. Ellen S. Cohen. Their operating hours are between the hours of 8 am and 8 pm on week days. During the weekends, they are open between 8 am and 12 pm on Saturday but remain closed on Sundays. Quotes can be obtained from their website or by emailing Jerry at jerry@autoshippingtlc.com. One of the fascinating things about Auto Shipping TLC is they truly treat their customers like you were part of their family.
Auto Shipping TLC's corporate staff has over 15 years of combined experience in both Management and Sales. The support staff has been trained to be courteous and efficient.
Honesty, Integrity, and Reliability
We all know a move of any kind can be a very stressful journey. Your vehicle is an important part of your family and as you would take the proper precautions to put your family members in a safe environment with tender loving care, we at Auto Shipping TLC will strive to continuously provide this same care to all of our customers.
Auto Shipping TLC works only with the most reputable carriers in the industry. Your vehicle will be handled with the TLC and due diligence throughout the transportation process. We do everything to make sure that you and your vehicle are properly taken care of. The one promise we can make no matter the situation YOU are our number one priority.
Give Auto Shipping TLC the Opportunity to Prove it
You, our customer, are our #1 priority. Our staff at Auto Shipping TLC will be there to guide you through a step-by-step stress free process. Our "TLC Service" has gained a reputation as being prompt, reliable and courteous.. We are dedicated to our customers and "marry you" with the highest rated carrier for your auto transport needs Our commitment to you is to provide a professional and hassle free service with the knowledge that you are comfortable knowing that your possession will be handled with the utmost care. We look forward to working closely with you. Thank you for making Auto Shipping TLC your shipper of choice. Please feel free to call us at (561) 369-2255, or complete the quote form.